Name:
Juan Cobo Escorial
Citizenship:
Madrid
Date of birth:
1984
Website:
Juan Cobo Escorial is a photographer specialized in portrait. In his projects he focuses on making the subject a common piece, a representative element of the complete series, working on the empathy with the subject as a film director does. This pattern, or guide, on the subject makes his photos a frame that can take us to the previous or subsequent moment of the photo and therefore to the path of his models, connected by the light of their eyes.
As an example of this type of photographic series, we can find Control, which focuses on the previous moment for its protagonists to lose control over their feelings. These look challenging and unprotected at the same time, showing an unknown situation to the viewer, leaving motivations and connections to the imagination. He plays with the empathy and personal experiences of the spectator, so he has to be who investigates with his subconscious the motivation of each character. Intimate but exhibitionist, Juan Cobo Escorial establishes a dialogue between the photographed and the voyeur observer, a game about glance full of light and hidden meanings.


Education
2010 Master in Photography, EFTI, Madrid. (Second Prize Promotion)
2004-2009 Degree in Audiovisual Communication/Media Studies (Universidad Complutense), Madrid
2009 Digital Photography Course, EFTI, Madrid
2009 Analog and laboratory Photography Course, EFTI, Madrid
2005- 2008 Degree in creation and production of film and television (Universidad Villanueva)
2007 Film Editing Studios (EICTV)

Group exhibitions
2013 Control, Espailamaga, Barcelona.
2013 JÄÄL PHOTO Art Fair. Art DEal project. Madrid.
2011 Festival de la Photographie de Toulouse. Touluse. Francia
2011 Retratos. Jóvenes Fotógrafos. A.C Mediodia Chica. Madrid
2011 Retratos. Una exposición fotográfica. Círculo de Bellas Artes. Madrid
2010 De tal palo tal astilla. Tarazona Foto. Zaragoza. Catalogue Master 2010, Circuito off PHE10, EFTI Gallery. Madrid. Catalogue

Awards
2011 Sixth Prize at "Festival de la Photographie de Toulouse". MAP 11
2010 Second Prize Promotion, Master, EFTI, Madrid


Fotofever
by Juan Cobo Escorial
10/11/2016 - 13/11/2016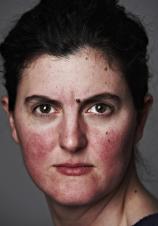 by Juan Cobo Escorial
13/09/2013 - 11/10/2013