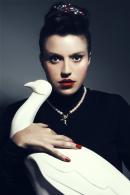 Name:
Paulova
Citizenship:
Lugo
Date of birth:
1983
Website:
Paula Lopez Vallejo works artistically as Paulova, as her grandmother used to call her since she was a little girl. This family roots and the love for traditional arts, bring her to revisit and update the popular imagination through her pieces, in which she adds an acid wink on details that the viewer must discover to create his own universe.
She extracts her images from everyday life to give a lap, adding elements that do not leave indifferent and creating its own atmosphere. Both in painting, where he developed a peculiar pixelated technique to approach the world of tapestry, as in sculpture and photography, Paulova prints her own stamp with a kitsch touch to position herself as a multidisciplinar and eclectic artist.


SHOWS
Solo Shows:
2014
"WORLD WAR X. De la España cañí a lo desconocido", sala MISCELÁNEA. Barcelona.
2013
"LABORES,muestra acotada del universo Paulova", BBVA, Vigo.
"Labores Marcianas".Sala C, CEART, Fuenlabrada, Madrid.
2012
"Labores Marcianas". About Art Gallery. Pontevedra.
"O mapa das illas". CEIP Chancelas. Pontevedra.
Group shows:
2014
MERCADO CENTRAL DE DISEÑO. Matadero Madrid
Cultur3 Club. Palacio de la Riega. Somió. Gijón.
ARTISTAS EN RED. Ciclo de peformance. M.AR.C.A (Museo arqueológico de Cacabelos), León.
DE LO NATURAL A LO HUMANO. Isköö Espacio multidisciplinar. Lugo.
CRASH.Segunda colisión de performances. Calderería 50. Galería Metro y Aire centro de arte. Santiago de Compostela
Miradas de mujer sobre la Guía Postal de Lugo de Maruja Mallo. Festival Miradas de Mujeres. Sala expositiva de la Diputación de Lugo. Museo de Lugo.
AHORA, NOSOTRAS. Festival Miradas de Mujeres. M.AR.CA. (Museo Arqueológico de Cacabelos), León.
Artistas en los espacios de tránsito. Galería Heldmound.Espacio expositivo experimental.
2013
CUARTO PÚBICO.Hotel Obradoiro NH.Santiago de Compostela.
Room Art Fair#3. Hotel Praktik Metropol. Madrid.
Xuventude Crea. Iglesia de la USC. Santiago de Compostela.
CREAMOS(NÓS) II. CENIMA. Foz. ARTISTAS EN RED. Galería Dosmilvacas Arte. Ponferrada.
Colores de Mayo. Galería 9. Valencia.
CREAMOS(NÓS). Auditorio de Cangas, Pontevedra.
Festival PechaKucha vol.5. Portal 48. Pontevedra.
2012
Room Art Fair#2 .Hotel Praktik Metropol. Madrid.
13 Bienal de Pintura Balconadas. Betanzos.
Xeración 80. Pazo de la Cultura. Pontevedra. 1980. Auditorio de Ribeira.
Emporcarte 2012. Museo de Lalín.
2011
Strangelet: Encuentro intergalaico. Alga-Lab. Vigo.
Emporcarte 2011. Museo de Lalín.
2010
Kaldarte 2010. Caldas de Reis,Pontevedra.
XXXI Bienal de Pontvedra. Museo de Pontevedra.
IKAS ART 2010. BEC Bilbao. El video del mes. Centro Torrente Ballester. Ferrol.
AWARDS
Finalista en el certamen "Xuventude Crea". 2013
III Encontro Artistas Novos. Cidade da Cultura. Santiago de Compostela. 2013.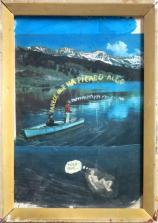 At Art Deal project
by Paulova
12/12/2014 - 04/02/2015